Delicious is a time management game about a girl that wants to start her own restaurant. To gather enough money and achieve this goal she has to work in all sorts of different other restaurants.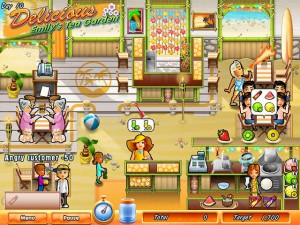 I was responsible for the complete level design of the third instalment of the series, which meant I had to direct the intervals,  quantity and type of customers walking into the restaurants. By doing so I created a difficulty curve for 50 levels spread over 5 different restaurants that each had their own kitchen layout and products. Each restaurant also had their own bottlenecks, upgradable items that could make the game easier and different customers that had their own patience model and type of food they would order.  The challenge in this project was to make the game difficult enough to keep the players challenged, but easy enough so that the casual gamers would not get frustrated and stop playing the game. Fortunately I was able to sit in on the play testing sessions to observe the target audience playing the game and adjust my level design based on my observations.
Delicious, Emily's Tea Garden was released in 2008 by Game House. It was rated 3.5/5 stars on gamezebo and earned a 4/5 user rating. Since Emily's Tea Garden the series is still going strong and at least 4 more sequels were released.